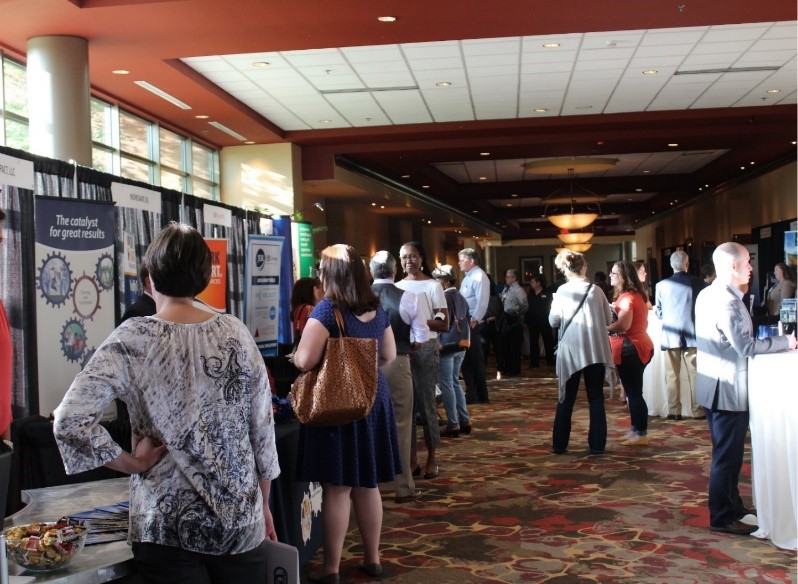 The Nonprofit Marketplace showcases companies and organizations that provide products and services
to North Carolina's $42.5 billion nonprofit market. Exhibiting in The Nonprofit Marketplace is an excellent way to meet and reach nonprofit leaders from across the state.
Exhibit Booth packages include:
8' x 8' booth with pipe and drape, 6' skirted table, 2 chairs, and booth sign
Admission for two (2) to Sept. 12 kick-off reception and Sept. 13 sessions and luncheon
Logo and link on the conference website
Logo and link sent in pre- and post-event eblast to all attendees (administered by the North Carolina Center for Nonprofits)
Organization name in conference program
Booth price: $850, $1,000 for an Exhibit Booth-Program Ad Package (includes a 1/2 page ad), $1200 for Booth, Ad, & Business Finder Listing Deal (includes half-page print ad, plus year-long listing in the Center's online vendor directory, Business Finder)
Exhibition Times: Sept. 12, 3:00-6:30 p.m. and Sept. 13, 8:00 a.m.-5:00 p.m.
Booth Set-up: Sept. 12, 1:00-3:00 p.m. Move-out: Sept. 13, 5:00 p.m.
Booth packages do not include attendees' contact information.