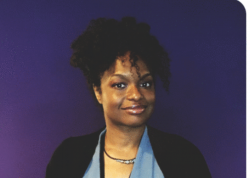 Ofronama Biu is the Senior Research Associate at the Building Movement Project (BMP). She works on BMP's national projects focused on movement building, service and social change, and leadership, as well as place-based projects in Detroit and New Mexico.  She is the author of Race to Lead: Women Of Color In The Nonprofit Sector. In light of the report and the call to remove race- and gender-based barriers in the workforce, Ofronama was named as one of Nonprofit HR's 2019 Women to Watch.
Ofronama has more than 10 years of experience in higher education and nonprofit organizations, particularly in career and workforce development. Here experience has included research, project management, program evaluation, partnership building, and direct service to participants and employers. She also co-founded a nonprofit organization that connects youth to media professionals for skills-building, internship, and mentoring opportunities.
Ofronama is a PhD candidate at the Milano School of Policy, Management, and the Environment at The New School. Her research interests include labor market and workforce development policies and racial and gender stratification. She obtained a BA in Psychology from the NYU College of Arts and Science and an MPA in Public and Nonprofit Management and Policy from the NYU Wagner School of Public Service.