Our Services
moss+ross provides experienced and innovative consulting to strengthen central North Carolina nonprofits. Our partners and associates take great pride in the firm's vision: impact that matters, in a place we love. Since our founding in 2009, more than 215 area nonprofit and educational organizations have worked with us to achieve their goals.
Our services include:
We serve sectors such as higher education and independent schools, social services, environment, healthcare, museums and arts organizations, and faith communities.  Consulting engagements are typically contracted for fixed price and duration. We also offer temporary staffing services to help nonprofits bridge staffing interruptions or other needs.
Services are tailored to each client. Clients are matched with a hand-picked team of professionals who have strong track records in fundraising and related fields. Our team is committed to helping clients achieve growth and sustainability.
Mary Moss and Susan Ross have built the largest firm of its kind in the region, large enough to handle major campaigns but with the hands-on, locally based knowledge and experience that a diverse client base needs for success. For a summary of the firm's strategic direction and core beliefs, please download the moss+ross overview.
Let us introduce ourselves…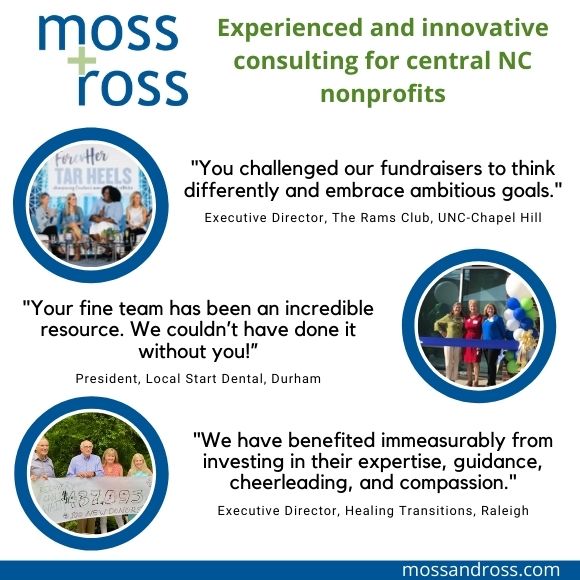 Get in touch!
How can we help your nonprofit?
We offer experienced and innovative consulting to strengthen nonprofits.
We offer a range of fundraising consulting services to a variety of nonprofits, large and small. Our interim staffing contractors are cost-effective options when you need temporary, professional support. Our free newsletter shares wisdom from our experiences and showcases client success. Contact us to find out how we can work together to strengthen your nonprofit!